Turkey's Leading Shipping Agent Focused on Dry Bulk Vessels
We are serving you in all major Turkish ports as a port agent and protecting agent for the needs of your dry bulk vessel.
Heisenberg Shipping is a Turkish national provider of port agency, marine services, and D/A management solutions provider that take care of all your needs nationwide through our people, and technologies, so you can concentrate on your core business to stay ahead of the competition in challenging times of shipping markets.
Discover Our Brochure!
Browse our extensive range of services, products, and solutions that are designed for your needs during your vessel's call to Turkish dry bulk ports.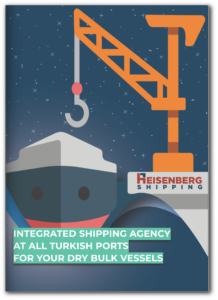 Integrated Shipping Agency Service at Turkey's Major Dry Bulk Ports
Save Time, Lower Cost and Minimise Your Risk
Heisenberg Shipping, with its 60+ years of experience, is your strategic partner and one-stop shipping agency service hub for all your essential needs. Our experienced team and nationwide office network are always at your service no matter what, when, or how.  Heisenberg Shipping is serving at Turkish ports and Bosphorus and Dardanelles straits with its 6 offices.
With our Easy-D/A solution, our customers are safely finalizing their PDAs starting from pre-arrival of the vessel up until FDA and account closure stage. Please discover our Easy-D/A program.
EASY-D/A LogIn
Pre-Arrival Operations, PDA

Inward Clearance

Operations Supervision

Cargo Documentation

Post-Departure Docs, FDA
Crew Change Operation

CTM (Cash to Master)

Spare Part Clearance, Delivery

Fresh Water, Stores Supply

Arrangement of Needed Local Services (Workshops and etc.,)
Charterer's Protecting Agent

Owner's Protecting Agent

Operations Supervision

Conflict Handling

Laytime Assistance
Bosphorus Transit Strait

Dardanelles Transit Strait

Spares Delivery on Passage

Crew Change on Passage

Lay-Up Operations
Heisenberg Shipping Makes Available all Needed Materials On Board of Your Vessel
The Most Competitive and Effective Ship Chandler in Turkey
We are the leading ship chandler in Turkey in terms of the transit delivery times and competitive prices. Since most of the dry bulk vessels calling Turkish ports are aiming to handle their ship chandler needs in Turkish ports due to competitive prices Turkey has to offer, Heisenberg Shipping has gained its position as the market leader in this area.
We have a special supplier management system that allows us to detect and purchase the most competitive products for our customers according to their needs.
Provisions Supply

Cabin Stores

Bonded Store Supply

Fresh Water Supply

Bi-Weekly Discounts
Hold Cleaning Products

Tank Cleaning Products

Paints

Oils of all kind

Technical Water Supplies
Fire Safety Equipments

Mooring Ropes

Welding & Surface Application

Cleaning Equipments

Office & IT Products
Bosphorus Transit Strait

Dardanelles Transit Strait

Spares Delivery on Passage

Crew Change on Passage

Lay-Up Operations
Smart LTC®
Laytime calculations has never been this easy! Our Smart LTC program quickly turns the time sheets into LTCs fully inline with the governing CP terms and conditions. We can easily process, export and share the LTCs with the respected parties according to the instructions given by our Principal.
Contact with Our LTC Desk
Easy-D/A
With our Easy-D/A integration, your D/As are safely processed with full transperancy. We can integrate our D/As either with DA-Desk® or any other 3rd party service provider as well.
You will be amazed when you see how much quick and transparent our Easy-D/A solution works!
*This area works only for members with provided username/password.
Suppliers Zone
All our regular suppliers have access to Supplier's Zone where theeir stocks, quotations, supply confirmations and all operational details are followed.
Suppliers with provided username/password are required to process their follow-ups on this page.
Log-In
We are Safely Handling at Turkish Ports
Vessels Served (Port Agency)
Vessels with Protecting Agent Service
Vessels Received our Husbandry Service
Vessels Served as Ship Chandler
Vessels with Strait Transit Agency (Bosphorus and Dardanelles)
Laytime Calculations Closed by our Smart LTC®
We are Celebrating Our 62nd Anniversary
Life at Heisenberg Shipping
Our people are our business, working to provide our customers with the service they deserve.
We are moving our Istanbul Office!
We are moving our Istanbul Office!
We are moving our Istanbul Office!
We are moving our Istanbul Office!
We are moving our Istanbul Office!