Shipyard Agency in Turkey
Heisenberg Shipping is the leading shipyard agency in Turkey. We are your trusted partner for shipyard solutions that drive efficiency, reduce costs, and ensure smooth operations. Explore our comprehensive shipyard agency services tailored to your needs in shipyards. We provide shipyard agency service at Tuzla, Istanbul, and Yalova.
Where ship repairs meet excellence. Heisenberg Shipping's Shipyard Agency in Istanbul Tuzla and Yalova. The gold standard for Shipyard Agency services in Turkey.
Efficiently allocating tonnage availability for trading and idle periods dedicated to ship repairs and maintenance is essential for shipowners. This strategic planning significantly impacts a shipowner's fleet productivity. Heisenberg Shipping offers its Shipyard Agency service to increase fleet productivity by reducing time spent and costs through shipyard optimization.
During non-trading periods, shipowners typically aim to allocate a maximum of 15% of a vessel's time for activities such as ship repair and maintenance, lay-ups, and incidents. Among these activities, ship repair and maintenance occupy the majority of these non-trading periods. Heisenberg Shipping understands the critical importance of these periods for ship owners, and ship managers. We offer Shipyard Agency service to assist with your shipyard calls in Istanbul Tuzla and Yalova. Our goal is to ensure the smooth handling of these calls.
Head Office / Tuzla and Yalova Shipyards
E-Mail Us
*Contact us regarding shipyard PDAs, operation-related matters, urgent actions, and port/shipyard information purposes for Istanbul, Tuzla and Yalova.
As a ship agency in Turkey, we pay great attention to our service quality, transparency, and communication. Our quality standards comply with the quality standards defined by Fonasba.
Drydocking and Repair Excellence: Keeping Your Fleet Shipshape
Repairs at Drydock and Regular Repairs at Berth
Drydock operations and onboard repairs constitute the foundation of effective vessel maintenance and operational excellence. Heisenberg Shipping, in partnership with leading shipyards in Yalova and Istanbul Tuzla, delivers a dedicated and proficient team. In this way, we can cater to the unique requirements of repairs and maintenance.
At Heisenberg Shipping, we take this responsibility seriously by providing a comprehensive range of services aimed at coordinating and optimizing your vessel's drydocking and repair needs. Our unwavering commitment is to minimize vessel downtime and remain highly responsive to the developments that may arise during your vessel's time at the shipyards in Tuzla or Yalova. Trust Heisenberg Shipping to keep your vessel sailing smoothly and efficiently.
As a shipyard agency dedicated to ensuring your fleet's peak performance, we understand that time is of the essence for your fleet. That's why we've made it our mission to streamline the drydocking and repair processes. Our extensive experience, strong partnerships with shipyards, and a customer-centric approach guarantee that your vessel receives top-notch care. With Heisenberg Shipping, you get a reliable partner to keep your fleet shipshape and ensure smooth operations.
At Heisenberg Shipping, we recognize the critical role that ship maintenance, repairs, and drydocking services play in optimizing vessel efficiency. We aim to reduce shipyard time by managing communication, planning repairs, documenting, and controlling costs efficiently.

Mr. Mustafa Can

Vessel Operations | Ship Agency Department

Urgent Spare Parts and Custom Clearance
Swift Spare Parts and Customs Clearance For Uninterrupted Operations
At Heisenberg Shipping, we specialize in providing rapid spare parts procurement and expert customs clearance services. We recognize the urgency of maintaining uninterrupted operations.
Our dedicated team ensures the swift delivery of essential spare parts and the efficient handling of custom clearance procedures. With our comprehensive support, we aim to optimize your supply chain, minimizing operational disruptions, and promoting seamless shipyard operations.
Certificate Renewal
Ensure Your Vessel's Certifications Are Always up-to-date
Your vessel's certificates are essential for safety and commercial operations. At Heisenberg Shipping, we specialize in certificate renewal services in coordination with Flag, and Class authorities. We ensure that your vessel always meets regulatory requirements. Our experienced team expedites the renewal process, minimizing downtime and potential disruptions to your operations while your vessel is at the Shipyard. Trust Heisenberg Shipping to handle your certificates, so you can focus on safe, efficient, and smooth maritime activities.
Why Heisenberg Shipping's Shipyard Agency?
We Handle Your Vessel's Drydocking and Repairs at Turkish Shipyards
Shipping Agency Brochure
Local Knowledge, Sustainable Operations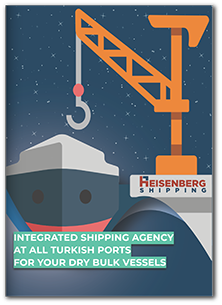 We Deliver Your Strategy at Turkey's Ports
Drop Us an E-Mail
If You Are Looking for a Reliable Shipping Agent in Turkey
Click to Send