Ship Agency in Antalya
Heisenberg Shipping has its own office in Antalya city where ship agency service is provided for the dry bulk vessels calling ports located in Antalya. Heisenberg Shipping offers comprehensive services to ensure the smooth and efficient operation of your vessel while in port. Our protecting agency, crew change agency, and supervising services are designed to take care of all the necessary arrangements and paperwork, allowing you to focus on your core function. Trust us to handle the agency operations in a sustainable way, ensuring the best possible outcome for your voyage. Antalya office covers the terminals of Asbas and Port Akdeniz.
Antalya is a city located on the Mediterranean coast of Turkey. The port of Antalya(mainly Asbas and Port Akdeniz) is an important hub for trade in the region, serving as a gateway for goods entering and leaving Turkey. The port's strategic location makes it a key player in the country's export and import operations, playing a vital role in the nation's economy.
Antalya Port
Bay/Port Location: 36°50'03.3″N 30°36'36.2″E
UN/Locode: TRAYT
Port Type: Mid-Sized Port
Tidal Conditions: No
Multi-Terminals: Yes
Covered Terminals in Antalya
Port Akdeniz (Port Antalya)
*All the above terminals are for dry bulk operations.
**Heisenberg Shipping operates via its own office at Antalya.
E-Mail Us
*Contact us regarding PDAs, operation-related matters, urgent actions, and port information purposes.
Antalya Free Zone Terminals (Asbas)
Antalya Serbest Bolge Kurucu ve Isleticisi A.S.
Asbas Port is under the management of Antalya Free Zone as the second port of Antalya that will turn the route of the exporters in the region to Antalya. Asbas terminal has a 400 meters length of the pier where 2 vessels (Supramax + Handysize) can be handled simultaneously.
Vessels Handled: Coaster, Handysize, Supramax
Shore Crane/Grabs: Click to Check Current Status
Pilotage/Tugboat: Available
Fresh Water: Available
Services Provided by Heisenberg Shipping at Antalya Free Zone: Full Port Agency, Protecting Agency, Crew Change Service, Ships Supply
Port Akdeniz
Ortadogu Antalya Liman İsletmeleri A.S.
Port Akdeniz, Antalya is a multipurpose port with a cruise terminal, container terminal, bulk cargo, general cargo, and a project cargo terminal. It is located at the westernmost end of Antalya and is linked to major centers of tourism, industry, and commerce. The port is the largest and best-equipped along the 700 km of Turkish Aegean-Mediterranean coast and can handle 5.0 million tons of dry bulk and general cargo. It also features a 1,260 m2 indoor storage facility and a 1,600 m main breakwater and a 650 m side breakwater. The surrounding area is rich in resources such as chromium ore, marble, barite and aluminum, and there is a thriving agricultural sector.
Vessels Handled: Coaster, Handysize, Supramax
Shore Crane/Grabs: Click to Check Current Status
Pilotage/Tugboat: Available
Fresh Water: Available
Services Provided by Heisenberg Shipping at Port Akdeniz: Full Port Agency, Protecting Agency, Crew Change Service, Ships Supply
Shipping Agency Brochure
Local Knowledge, Sustainable Operations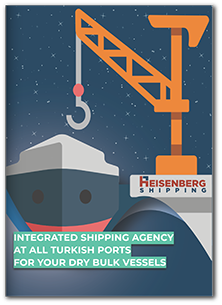 We Deliver Your Strategy at Turkey's Ports
Drop Us an E-Mail
If You Are Looking for a Reliable Shipping Agent in Turkey
Click to Send