Leading Ship Agency in Turkey
Heisenberg Shipping is the leading ship agency in Turkey. We are providing ship agency service to dry bulk vessels which call Turkish ports. We have 6 offices that enable us to offer a nationwide agency service.
As the national ship agent in Turkey, we, as Heisenberg Shipping, aim to provide the best shipping agency service to our principals in compliance with our Code of Business Conduct and Sustainability Program. Our experience comes from our history that goes back to 1960s.
Maritime is one of the oldest industries that goes back 5,000 years ago. As its well-established history, the only that does not change about the shipping industry is the center of its character which is its evolution. Its economic mechanisms and institutions have evolved in a way that promotes shipping's vital role in the global economy and trade.
In today's world, over 92% of all the goods traded on earth in terms of quantity are transported by cargo ships. These ships can be in different types and sizes according to the parcel size distribution of the cargo. However, we at Heisenberg Shipping believe in one thing that is the costs, quality of service provided, and sustainability will always be at the center of the shipping industry.
E-Mail Us
*Contact us regarding PDAs, operation-related matters, urgent actions, and port information purposes.
As a shipping agency in Turkey, we pay great attention to our service quality, transparency, and communication. Our quality standards comply with the quality standards defined by Fonasba.
One Ship Agent, Nationwide Coverage in Turkey
Local Expertise at Turkish Ports
We are offering full agency service including port agency, protective agency, husbandry services, crew change operation, and so on. Our specialty is dry bulk vessel operations. Therefore, we are offering our services to only dry bulk vessels. We have offices in 6 different hub regions of Turkey. In this way, we can deliver our agency services directly to our customers through our own experienced personnel.
We value the time that the vessel spends at port for any kind of operation we provide. Therefore, our focus has always been on lowering the time spent at a port call. This approach covers the documentation and cargo operation side of the port call of a dry bulk vessel under Heisenberg Shipping's agency. Thanks to our smooth relationship with port authorities and other local bodies, the vessels under our agency perform a very efficient operation.
Professional and Sustainable Port Efficiency is our absolute target to promote competitiveness and cost-friendly trade of dry bulk vessels at Turkish ports.

Ms. Susan Garang

Head of Vessel Operations

Shipping Agency Service to Shipowners, Operators and Charterers
We Protect Your Interests Objectively
We know that the essential need of charterers and shipowners is their interests to be protected when the vessel under their control call at a port. Under fluctuating market when time charter rates are high, the cost of a vessel idle at a port is extensive. At this point, we dedicated ourselves to facilitating the port operations in a way that our principal's rights and interests are and protected. Our local team at our 6 offices is 7 / 24 ready to provide the service needed by our principals.
It is no surprise that one of the most essential targets of our principals is to increase their fleet utilization rate. Therefore, with our in-depth expertise in the shipping agency business and our smooth relationship with the local authorities, we keep your vessel at the port as short as possible. In this way, you will be utilizing your tonnage with more shipments in the long-run.
Not only at ports but also at the shipyards, we provide the shipyard agency service through our experienced team in shipyard operations such as dyrdocking, ship repair, urgent spare parts delivery, and so on.
Why Heisenberg Shipping?
Smooth Shipping Agency Service at Turkey's Ports
Shipping Agency Brochure
Local Knowledge, Sustainable Operations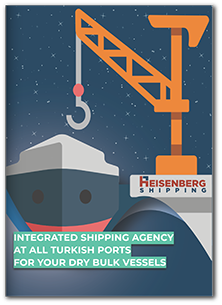 We Deliver Your Strategy at Turkey's Ports
Drop Us an E-Mail
If You Are Looking for a Reliable Shipping Agent in Turkey
Click to Send