Ship Crew Agency in Turkey
We are offering crew change service at Turkish Ports. We handle the visa and other paperwork needed for crew change operations. Our 7/24 available operation team transfer signing on and signing off crews from ship to airport and airport to ship. We provide full support in all procedures within respected Covid-19 rules at Turkey's ports.
Fast and smooth Crew Change operation in Turkey.
Turkey is one of the leading hubs for crew change operation due to considerably effective costs and flight availabilities for the crew members. It is considered as a hub location for airlines, therefore, signing on and signing off in Turkey is comparably a better choice.
After the Covid-19 pandemic hits the world, crew manning agencies' expertise has become highly important. Very strict and complex regulations define the terms under which a crew change operation can be done at Turkish ports.
Each port authority applies different restrictions regarding to Covid-19 for crew change. Heisenberg Shipping handles all necessary procedures smoothly for a perfect crew change service.
E-Mail Us
*Contact us regarding PDAs, operation-related matters, urgent actions, and port information purposes.
Most of the time the nominated port agent acts to favor the shipper's interests. This is why we believe that a fast, reliable, locally powerful and transparent Protecting Agent is very valuable for shipowners and cargo interests(charterers).
During a conflict arises, our own local office involves immediately to make sure that the conflict is solved without or minimum damage/cost/time loss to our principal.
Crew Manning Agency in Turkey
We Transfer your Crew On Time and  In a Cost Effective Way
Ship Crew Manning Operation requires a complex set of organization in order to delivery a smooth experience both to the Crew on the move and to the principle at the office. Therefore, we provide our Crew Manning service via one of our 6 offices across the coastline of Turkey where the largest dry bulk ports are located.
What we do for delivering the best Crew Manning Service can be listed as below:
Properly informing our principal about the documentation requirement for the subject crew change operation. This includes the visa formalities and other related paperwork that may depend on the nationality of the crew who is signing on or signing off.
We meet and greet the incoming crew members at the airport and assist them for the local procedures as we as luggage claims, if needed.
We arrange the transportation of the Crew to the Vessel and deliver the crew on board and get a signed statement by the Master regarding this operation.
During crew change operation, especially if the crew are engineers, there is a time needed for Handover process.
Our team stands by during the Handover process which normally takes 6-12 hours.
Once the Handover is completed, our team transports the signing off crew to the airport and makes that they are cleared for boarding. At this step, there is high possibility for requirement of a Covid-19 test and we also assist to crew in this steps well.
Turkish authorities have applies quite complex rules for safe transferring of the incoming and outgoing crews to/from cargo ships and Heisenberg Shipping, as the leading Ship Crew Agency in Turkey, is your local expertise under such difficult times.
Shipping Agency Brochure
Local Knowledge, Sustainable Operations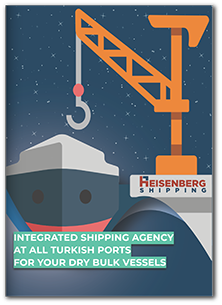 We Deliver Your Strategy at Turkey's Ports
Drop Us an E-Mail
If You Are Looking for a Ship Crew Agency Service in Turkey
Click to Send