Yalova Shipyard Agency
Our Yalova office provides comprehensive shipyard agency services to dry bulk vessels docking at Yalova Shipyards. Our Yalova shipyard agency service portfolio encompasses shipyard agency, protective agency, crew change agency, supervisory services, urgent spare parts delivery, custom clearance, technical consultation, and so on.
All aimed at optimizing your vessel's operations during its stay at the shipyard. Entrust Heisenberg Shipping with your shipyard agency requirements in Yalova. Our Yalova office serves the docks in Yalova and its surrounding areas, ensuring efficient shipyard agency solutions.
Yalova, located on the picturesque eastern coast of the Sea of Marmara, is home to a cluster of shipyards. The shipyards in the region are under the jurisdiction of T.R. UAB Yalova Regional Port Authority. These facilities boast state-of-the-art infrastructure, providing top-notch shipyard services for the maritime industry. Yalova shipyards are strategically positioned to provide ship maintenance, drydocking, repairs, and new shipbuilding. Heisenberg Shipping offers Yalova shipyard agency service for shipowners, managers and operators.
Yalova Shipyards
Bay/Port Location: 40°43'53.1″N 29°25'40.2″E
UN/Locode: TRYLA
Port Type: Large-Sized Shipyad Cluster Zone
Tidal Conditions: No
Multi-Shipyards: Yes
Yalova Shipyard Agency Service in Below Shipyards
Sefine Shipyard
Besiktas Shipyard
Gemak Shipyard
Tersan Shipyard
Hat-San Shipyard
Ozata Shipyard
Dogruyol Shipyard
Hicri Ercili Shipyard
Seltas Shipyard
ICDAS Shipyard
Cemre Shipyard
Duzgit Shipyard
Yalova Shipyard
Sanmar Shipyard
Gisan Shipyard
Gemak Shipyard
*All the above shipyards are for ship repair/maintenance, drydocking, and marine surveys.
**Heisenberg Shipping operates via its own office at Yalova for Yalova Shipyard Agency service.
Yalova Shipyard Zone Office
E-Mail Us
*Contact us regarding PDAs, operation-related matters, urgent actions, and port information purposes.
Heisenberg Shipping's Shipyard Agency in Yalova is to Surpass Expectations
Urgent Spare Parts Delivery
Crew Change Operations
Cash to Master
Husbandry Services
DryDock Arrangement
Cost/Time Minimization
Sefine Shipyard
SEFINE Denizcilik Tersanecilik Turizm San. ve Tic. A.S.
Sefine Shipyard, established in 2005 in Yalova, Turkey, is one of the leading shipbuilding and repair facilities. With extensive facilities spanning 140,000 m2, it offers services for ship construction, repair, and conversion. The shipyard's capabilities include handling vessels up to 120,000 DWT on its floating dock and a wide range of ship types, from General Cargo Vessels to Ferries, Offshore Vessels, and more. Sefine Shipyard is known for its remarkable growth, ranking 40th among the fastest-growing companies in Turkey's business listings between 2012 and 2015.
Besiktas Shipyard
Besiktas Shipyard, established in 2007 in Yalova, Turkey, is part of the Besiktas Group's maritime investments. It is a highly active ship repair yard, ranking 8th globally and 1st in Europe, with over 180 ships docking annually. This shipyard excels not only in repair but also specializes in shipbuilding, having successfully completed 50 new projects, including LPG/Ethylene tankers, offshore support vessels, and fishing vessels. With three graving and floating docks, the largest being 382m, and an extensive area covering 200,000 sqm, Besiktas Shipyard can simultaneously accommodate up to 15 ships, including Suezmax tankers, Capesize bulk carriers, Q-Max LNG tankers, and containers of up to 15,000 TEU capacity. Known for its service-oriented approach, strong communication, and unwavering commitment to international safety and quality standards, Besiktas Shipyard is recognized as a leading ship repair yard. It remains a preferred choice for ship owners and managers in the global shipping industry.
Gemak Shipyard (Yalova)
Gemak Gemi Insaat Sanayi Ve Ticaret A.S.
Gemak Altınova Shipyard, part of the Gemak Group since 2012, underwent significant expansion. It became the primary site for constructing the Yavuz Sultan Selim Bridge and boasts advanced facilities. This development involved ground enhancements, enclosed blasting and painting halls, and acquiring self-propelled modular heavy load carriers (SPMT) for large structure transportation. Gemak Altınova Shipyard is well-prepared for larger steel structure fabrication and anticipates increased involvement in building offshore platforms, floating docks, bridges, and more. The shipyard, covering 147,805m² (including 18,000m² enclosed and 121,000m² open facilities), symbolizes growth and innovation in shipbuilding.
Tersan Shipyard
Tersan Tersanecilik San. Tic. A.S.
Tersan Shipyard is a major European shipyard, known for providing shipbuilding and ship repair services. It operates in two locations in Tuzla, Istanbul, and Yalova, covering approximately 320,000 square meters. Tersan specializes in constructing technologically advanced vessels, including offshore, fishing, passenger, LNG, and battery-operated ships. Despite its relatively young age, the shipyard has established itself as a leader in Turkey and Europe, driven by experienced staff, advanced facilities, and unwavering dedication to quality.
Tersan's commitment to excellence extends to its strong in-house design and engineering team, with around 75 skilled professionals. They utilize cutting-edge 3D modeling tools, such as Autocad, Nupas, and Cadmatic, to create precise production drawings. Furthermore, Tersan ensures clients' involvement and innovation in the design process.
Hat-San Shipyard
Hat-San Gemi Insaa Bakim Onarim Deniz Nakliyat San. Ve Tic. A.S.
Hat-San Shipyard features an extensive array of state-of-the-art facilities for both ship construction and repair. The shipyard encompasses multiple slipways, including Slipways 1 to 5, each equipped with its own set of gantry cranes, enabling the construction and repair of a wide range of vessels. Additionally, Hat-San offers two floating docks, Floating Dock 1 and Floating Dock 2, complete with powerful cranes for efficient maintenance and construction activities. The shipyard also provides a series of piers and quays, such as Pier 1 to Pier 4 and a dedicated quay, all equipped with cranes, enhancing the shipyard's versatility and capacity for various projects.
In terms of enclosed spaces, Hat-San Shipyard maintains two spacious warehouses for consumables and spare materials. A dedicated Block Production Area is utilized for fabricating vessel blocks and components for the floating dock. Furthermore, the Mechanical and Pipe Workshop ensures the overhaul of equipment and the fabrication of pipes adhering to international standards. Hat-San's comprehensive Paint Hall offers ample space for the blasting and painting of large structures, including megablocks. Workshops provide a controlled environment for insulation and outfitting work.
At Hat-San Workshop (Hat-San 2), a total workshop area of 7,200 m2 is available, with 3,850 m2 in closed spaces. Cutting-edge steel production equipment, including CNC Cutting Machines and Bending Press Machines, further enhances Hat-San's capabilities in ship construction and repair.
Ozata Shipyard
Ozata Denizcilik San. ve Tic. A.S.
Özata Shipyard is committed to providing exceptional dry-docking and afloat services designed to prioritize customer satisfaction. They offer flexible, transparent, and cost-effective solutions. The shipyard excels in hull treatment, ensuring sustainability and efficiency by collaborating closely with suppliers for swift and durable surface preparation. Their top priority is ensuring the reliability of propulsion systems. Main engines and auxiliaries play a pivotal role in a ship's lifecycle, and Özata Shipyard understands that unexpected breakdowns or failures can disrupt operations. They employ highly experienced technicians and engineers to maximize the life of engines and machinery equipment through reliable troubleshooting and overhauls.
Safety is a non-negotiable priority, and Özata Shipyard is well-prepared to conduct periodic inspections and maintenance of life-saving appliances (LSA) and firefighting equipment (FFE), ensuring they function properly and meet all regulations. Moreover, Özata Shipyard is a leader in ship conversion services for commercial vessels, with a strong focus on extending ship lifecycles and adapting them to new requirements.
The shipyard operates two docks with impressive specifications, including high lifting capacities and crane capabilities for efficient service delivery. Özata Dock 1 has a length overall (LOA) of 252 meters, a breadth of 43 meters, a maximum draft of 7.5 meters, and a lifting capacity of 28,000 tons, equipped with two 20-ton cranes. Özata Dock 2 features an LOA of 184 meters, a breadth of 33.6 meters, a maximum draft of 7.5 meters, and a lifting capacity of 10,000 tons, supported by two 7.5-ton cranes.
Dogruyol Shipyard
Dogruyol Tersanecilik Denizcilik Sanayi ve Ticaret A.S.
Doğruyol Shipyard, located in the Yalova Shipyards Region, has rapidly entered the industry. The company "Doğruyol Tersanecilik Denizcilik Sanayi ve Ticaret A.Ş" was established in June 2014 and commenced its operations in February 2017.  Operating in Altınova district of Yalova, the shipyard features a floating dock with dimensions of 128×30.1 meters and a lifting capacity of 5,000 tons.
Hicri Ercili Shipyard
Hicri Ercili Tersanecilik San. Ve Tic. A.S.
Hicri Ercili Shipyard, a relative newcomer to the shipbuilding industry having commenced operations in 2017, quickly made a mark with its noteworthy projects. The shipyard is operated under the Hicri Ercili Group. The company conducts shipbuilding, modification, maintenance, and repair activities at its 45,000 m2 facility in Yalova Altinova. They increased their capacity by acquiring adjacent shipyard space in 2017, providing two 145-meter-long and 30-meter-wide slipways, each equipped with gantry cranes to construct approximately 20 thousand-ton chemical tankers. With a total covered area of around 10 thousand square meters, the shipyard is divided into new construction and repair and maintenance sections, equipped with the technical resources to meet diverse needs.
While the core staff comprises 35 individuals, they maintain a workforce of 500, including subcontractors, for their shipyard operations. Their initial focus on chemical tankers broadened to include repair and maintenance, leading to the establishment of a dedicated facility for these services. Last year, the addition of a floating dock expanded their pier capacity to approximately 300 meters, with the floating dock measuring 116 meters in length, and 30 meters in width, and boasting a lifting capacity of 4,500 tons. Further projects, including additional floating docks, are in the works.
Seltas Shipyard
Seltas Denizcilik San. ve Tic. A.S.
Seltas Shipyard is equipped with a floating pool measuring 260m x 45m and various facilities for maintenance and repair services. The shipyard features docks and quays capable of accommodating ships of up to 100,000 dwt. Over the years, Seltas Shipyard has successfully completed the construction of various vessels, including the recent achievement of constructing Turkey's first hybrid (concrete-steel) floating pool with dimensions of 260m x 45m. The shipyard operates with experienced and skilled teams capable of providing optimal solutions for even the most challenging manufacturing tasks. New ship constructions are carried out on the shipyard's two slipways: Slipway 1 measuring 150m x 35m and Slipway 2 measuring 120m x 35m. Additionally, Seltas Shipyard excels in transformation projects thanks to its experienced workforce and shipyard capabilities.
The floating pool measures 260m x 45m and is equipped with 2 x 15-ton cranes and 2 x 5-ton cranes. The first slipway, measuring 150m x 35m, features 2 x 50-ton cranes, while the second slipway, measuring 120m x 35m, also has 2 x 50-ton cranes. The shipyard boasts a 170m x 12m pier with a 15-ton x 22m crane. Additionally, there is a 50m x 20m quay. The shipyard has a total closed area of 11,650 square meters, which includes 3,000 square meters for block production, 800 square meters for the paint hall, 1,500 square meters for plate stock, 1,100 square meters for equipment workshops, 700 square meters for pipe workshops, 900 square meters for maintenance and repair workshops, 600 square meters for mechanical works, and 2,650 square meters of storage space.
Cemre Shipyard
Cemre Mühendislik Gemi Inşaat Sanayi ve Ticaret Limited Sirketi
Cemre Shipyard, situated in Altinova, the hub of the Turkish shipbuilding industry with a vast 160,000m2 area, boasts cutting-edge shipbuilding facilities divided into two distinct sections, Cemre I and Cemre II, along with a dedicated workshop area. Since 2017, Cemre Shipyard has been making remarkable investments in its infrastructure, with a particular focus on expanding its working area. These continuous investments and developments have propelled the shipyard to its current prominent position. Notably, the shipyard has remained committed to its growth trajectory, even in the face of macroeconomic challenges.
Düzgit Yalova Shipyard
Duzgit Yalova Gemi Insaa Sanayi A.S.
Düzgit Yalova Shipyard is strategically situated in Altınova-Yalova, just an hour and a half's drive from Istanbul, at the heart of Turkey's shipbuilding industry. With advanced infrastructure and technology, it covers an area of around 52,000 m2 and boasts the capability to build vessels of up to 160 meters in length or about 30,000 DWT. Featuring two slipways and comprehensive facilities for steel production, the shipyard offers a full range of services.
This facility is well-connected to Istanbul via the Osman Gazi Bridge and has seen significant investments of approximately USD 20 million. It has a current capacity to construct ships up to 25,000 DWT, and recent projects include the completion of a 16,000 DWT chemical tanker in 2014. As a subsidiary of a prominent Turkish conglomerate with interests in ship management and related services, the shipyard is well-supported and enjoys a flexible rental cost structure determined as 0.1% of income. Overall, Düzgit Yalova Shipyard plays a pivotal role in Turkey's shipbuilding industry, offering diverse services and contributing to the maritime sector's success.
Yalova Shipyard
Founded in 2006, Yalova Shipyard operates under the esteemed umbrella of Akar Shipping, a distinguished ship owner in the maritime industry. This unique parentage offers a dual vantage point—both as ship repairers and as ship owners, providing a deep understanding of industry challenges. Yalova Shipyard specializes in ship repair, maintenance, and conversion, boasting an experienced team of naval architects and marine engineers who set industry standards. Their state-of-the-art facilities and cutting-edge technologies offer reliable and innovative solutions to minimize downtime and maximize operational efficiency for vessels.
Looking ahead, Yalova Shipyard is actively expanding its capabilities to include shipbuilding, positioning itself as a comprehensive maritime solutions provider. When partnering with Yalova Shipyard, clients invest in maritime excellence. They offer various services, including LNG tanker repair, ballast water treatment system installations, tank cleaning and coating, hydraulic systems repair, and maintenance operations, as well as electrical and electronic ship devices' maintenance and supply. Blasting and painting services are also provided to ensure a clean and safe environment. Yalova Shipyard speaks the universal language of the sea, aiming to provide top-notch services from one ship owner to another.
Sanmar Shipyard
Sanmar Denizcilik Makina Ve Ticaret A.S.
In 2015, SANMAR opened its shipyard in Yalova, an approximately 40-minute drive from the renowned Tuzla Shipyard, accessible via the Osman Gazi Bridge. This modern facility covers roughly 50,000 square meters of land, with a substantial 25,300 square meters designated for covered production areas.
With its expanded capacity, this state-of-the-art shipyard is well-equipped to construct larger and more intricate vessels, including Anchor Handling Tug Supply (AHTS) ships, Platform Supply Vessels (PSVs), offshore construction vessels, and vessels designed to operate on alternative fuels like LNG and methanol. The key facilities at SANMAR Shipyard Altınova include a covered fabrication workshop spanning 5,200 square meters, a management building, and a vast total area of 50,000 square meters. The shipyard's steel processing capacity can handle up to 12,000 tons, with essential features such as a warehouse, gantry crane capacity, varied quay lengths, forklifts for efficient operations, a floating dock, a CNC hall for precision work, and multiple production halls, catering to diverse shipbuilding projects.
Gisan Altinova Shipyard
Gisan Altinova Gemi Insa San. Ve Tic. A.S.
Gisan Altınova Shipyard, established by its founder Ramazan Kısa in 1960 at the Golden Horn Shipyard, continues its shipyard activities in Yalova. With a legacy spanning over 60 years, the shipyard has cultivated strong relationships in the industry, harnessing the dynamism of its staff and an extensive wealth of knowledge and experience. Gisan Altınova Shipyard excels in a wide array of projects, from new ship construction to routine maintenance, major overhauls, and modernizations. Regardless of the project's scale, it is dedicated to providing top-tier workmanship and completes all assignments with precision and timeliness.
The shipyard's commitment to customer satisfaction is evident through its high-quality work, aligned with customer requirements and expectations. This commitment is upheld through an effective Quality Management System, ensuring compliance with international standards. Holding ISO 9001, ISO 14001, and OHSAS 18001 Quality Certificates, Gisan Altınova Shipyard possesses the capability to construct various new vessels and conduct repairs and maintenance for a diverse range of ships.
Gemak Shipyard Altinova
Gemak Gemi Insaat ve San. Tic A.S.
Gemak Altınova Shipyard, part of the Gemak Group, has a rich history. Acquired in 2012, it began expanding its facilities in 2013 after securing a contract for the Yavuz Sultan Selim Bridge's steel deck fabrication. The expansion included ground improvements with impressive weight-bearing capacities and the construction of state-of-the-art facilities like a blasting hall and a painting hall that maintained ideal climate conditions for eco-friendly operations.
The shipyard prepared segment assembly platforms and panel fabrication workshops for both the European and Asian sides of the bridge. They invested in self-propelled modular heavy load carriers (SPMTs) with a remarkable 1,440-ton load capacity for transporting large structures and efficiently used a load-out quay.
Notably, the shipyard played a key role in the Yavuz Sultan Selim Bridge construction, handling steel deck fabrication, segment assembly, blasting, painting, and logistics. It also ventured into powership conversion projects, turning 290x45m bulk carriers into powerships that generate electricity through 21 diesel generators, dual-fuel engines, and two steam turbines.
Gemak Altınova Shipyard is a significant player in offshore platforms, floating docks, bridges, and large ship section construction. They can also repair and convert vessels up to 400 meters in size. The shipyard, spanning 147,805 square meters, features comprehensive facilities. These include a block fabrication workshop with 4×35-ton cranes, a panel fabrication open area with 2x(2×32-ton) cranes, and two steel section fabrication areas with 70-ton crane capacity. Additionally, the shipyard has a blasting hall and a painting hall for complex work, a 300-meter jetty, and a 36-axle SPMT system with a 1,440-ton lifting capacity.
Shipping Agency Brochure
Local Knowledge, Sustainable Operations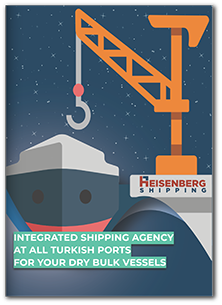 We Deliver Your Strategy at Yalova Shipyards
Drop Us an E-Mail
If You Are Looking for a Reliable Shipping Agent in Turkey
Click to Send