Ship Agency in Izmir
Heisenberg Shipping simplifies your agency operations, allowing you to focus on your core duties. As a top ship agency in Izmir port, we provide comprehensive port agency, protective agency, crew change, and ship supply services at all dry bulk terminals in the area. Our Izmir office caters to a range of terminals, including TCDD Alsancak Port and Dikili Port.
Izmir is a bustling port city located in western Turkey, known for its prominent commercial port and its role as a major center for international trade and shipping. Heisenberg Shipping is proud to offer comprehensive port agency services at Izmir port. With a wealth of experience and expertise in the shipping industry, Heisenberg Shipping is the ideal partner for all your port agency needs in the region.
Izmir Port
Bay/Port Location: 38°27'04.1″N 27°09'21.8″E
UN/Locode: TRIZM
Port Type: Large-Sized Port
Tidal Conditions: No
Multi-Terminals: Yes
Covered Terminals in Izmir
*All the above terminals are for dry bulk operations.
**Heisenberg Shipping operates via its own office at Izmir.
E-Mail Us
*Contact us regarding PDAs, operation-related matters, urgent actions, and port information purposes.
TCDD Izmir Alsancak Limanı
TCDD Izmir Limani Isletmesi Mudurlugu
Alsancak Port, located in the city of Izmir, is a significant commercial port and a hub for international trade in the Aegean region of Turkey. With its strategic location and state-of-the-art facilities, Alsancak Port handles a variety of cargo operations, including container, bulk, and general cargo. The port is operated by the Turkish Maritime Organization and offers a wide range of services, including loading and unloading of goods, customs clearance, and storage facilities. In the recent years, majority of the cargo movement has shifted from Alsancak Port to Aliaga port where there are many terminals.
Vessels Handled: Coaster, Handysize, Supramax
Shore Crane/Grabs: Click to Check Current Status
Pilotage/Tugboat: Available
Fresh Water: Available
Services Provided by Heisenberg Shipping at TCDD Izmir Alsancak: Full Port Agency, Protecting Agency, Crew Change Service, Ships Supply
Dikili is a town and port located in the northwestern part of Turkey, in the province of Izmir. As one of the major ports in the region, Dikili is an important gateway for trade and commerce between Turkey and other countries. Heisenberg Shipping is pleased to offer reliable and efficient port agency services at Dikili port, ensuring smooth and hassle-free operations for our clients. With a commitment to excellence and a deep understanding of the local maritime industry, we are your trusted partner for all your port agency needs in the Dikili region.
Dikili Port
Bay/Port Location: 39°04'20.9″N 26°52'55.7″E
Time Zone: Istanbul, GMT+3
UN/Locode: TRDIK
Port Type: Small-Sized Port
Tidal Conditions: No
Multi-Terminals: Yes
Dikili Port
Dikili Liman ve Turizm İşletmeleri Ticaret A.S.
Dikili Port is a small sized dry bulk port where various types of cargoes can be loaded or discharged from or to small size vessels up to Handysize type.
Vessels Handled: Coaster, Handysize
Shore Crane/Grabs: Click to Check Current Status
Pilotage/Tugboat: Available
Fresh Water: Available
Services Provided by Heisenberg Shipping at Dikili Port: Full Port Agency, Protecting Agency, Crew Change Service, Ships Supply
Shipping Agency Brochure
Local Knowledge, Sustainable Operations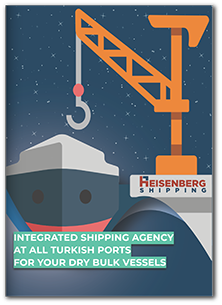 We Deliver Your Strategy at Turkey's Ports
Drop Us an E-Mail
If You Are Looking for a Reliable Shipping Agent in Turkey
Click to Send