Husbandry Services in Turkey
Heisenberg Shipping offers reliable, smooth, and efficient Husbandry Services to ensure that your vessel's VTT(Vessel Turnaround Time) is kept at a minimum level at Turkish Ports. Our well-coordinated team will take care of your dry bulk vessel's husbandry needs by providing the best tailor-made solutions.
Your local partner: timely and cost-efficient husbandry services at Turkey's ports.
With 60+ years of experience, Heisenberg Shipping provides the best Husbandry Services for your dry bulk vessel in Turkey. We know how hard it may be to reach a reliable partner when urgent action or a supply is needed at a port. Heisenberg Shipping's team is 7/24 available to serve your dry bulk vessel at the major ports of Turkey.
Our range of Husbandry Services has two legs. The first one is the usual services such as Cash To Master, Crew Change(Covid-19 conformity), Crew Assistance, Spare Parts & Consumables Supply, Survey Operations, and Coordination with Local Authorities when needed.
The second leg is tailor-made solutions when an extraordinary situation occurs. This extraordinary situation may be a conflict handling when damage occurs or a situation during the cargo operation such as crane breakdown or risk of losing the berth turn and so forth.
E-Mail Us
*Contact us regarding PDAs, operation-related matters, urgent actions, and port information purposes.
In any circumstances, our own personnel will be attending immediately to deliver the best Husbandry Service experience for your dry bulk vessel.
Dry Bulk Vessels
In 2021
Received our Husbandry Service
Cash to Master
Safe Delivery of Cash to Master by Heisenberg Shipping
At 28 dry bulk ports in Turkey, we deliver your funds safely and fast to the Master/Crew. Our Cash to Master service is provided by our team with immediate effect once the funds are received.
Our team prepares a "Cash to Master Delivery Bill" and asks for the signature/stamp of the party who is delivering the cash on board the vessel.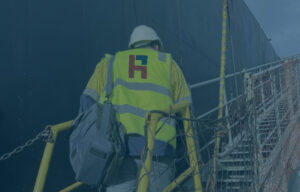 In most cases, we make the CTM deliveries in $(USD). Additionally, we also accept €(EUR) deliveries as well when requested by the principal.
Crew Assistance
Best Companion of Your Crew
In addition to our Crew Manning Service, we provide Crew Assistance for your crews when needed. This service covers crew transport, medical assistance, accommodation arrangement, and passenger transfer.
When urgent crew assistance is needed, our team will be there to accompany your crew immediately on board your vessel.
Mail Delivery
We Deliver Your Mails On Board
For dry bulk vessels, Bills of Lading, certificates, courier deliveries, or personal mail/documents needed to be delivered on board. Heisenberg Shipping delivers the necessary documents and mail on board safely and smoothly.
Coordination of Attendees
Owner's Representatives or Class/P&I Surveyors are Attended by Our Team
We assist attendees to your dry bulk vessel as owner's representative, charterer's representative, class surveyor, P&I representative, or port captain. We provide transportation, port entry paperwork, and necessary permissions/paperwork for attendees.
Marine Salvage and Tugboat Arrangements
When Your Vessel Needs Urgent Salvage, Tugboat Assistance or Pilotage
In some cases, dry bulk vessels need salvage service or tugboat assistance to be afloat again. In such situations, Heisenberg Shipping attends to and makes necessary arrangements for a smooth salvage operation for your dry bulk vessel before the damage gets any bigger.
Shipping Agency Brochure
Local Knowledge, Sustainable Operations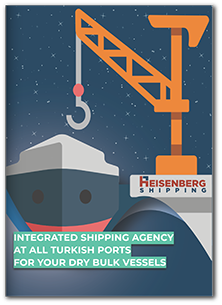 We Deliver Your Strategy at Turkey's Ports
Drop Us an E-Mail
If You Are Looking for Husbandry Services for Your Dry Bulk Vessel in Turkey
Click to Send